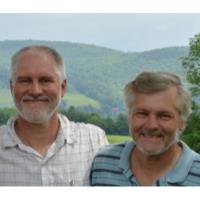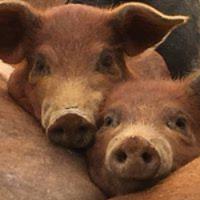 Red House Ranch
Contact: Ike & David Mallula
Address: 953 Rumsey Hill Road Van Etten, NY, 14889
Email Address: ike@redhouseranch.net
Phone: 913-488-8292
About Us
Our goal at Red House Ranch is to produce food that our grandparents would recognize. They might not recognize some of our methods or technologies, but they would certainly recognize the high-quality, grass-fed meat and eggs.
Practices
Our mission is to provide superior quality grass-fed products that are nutritious, raised without the use of industrial fertilizers, herbicides, insecticides, antibiotics or added growth hormones. We raise our pigs using the silvopasture method. Silvopasture utilizes the area under a partial forest canopy to raise pork or cattle. This lets us take advantage of land that is not traditionally used for animal production. Our cows are raised with the mob grazing technique. Mob grazing is a method of frequently moving cattle for optimal nutrient availability. Frequent daily moves ensure cows have access to the top one-third of the growing grass.

Our egg laying chickens are outdoors, on pasture, no cages, they are fed non-gmo feed that is antibiotic free.