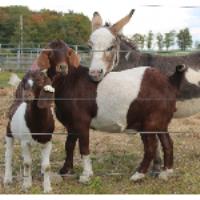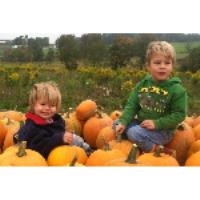 Greener Pastures Farm
Contact: Steve & Nicole Harris
Address: 3004 Rundell Creek Road Troy, PA, 16947
Email Address: nicolecarman@yahoo.com
Phone: 570-337-0815
About Us
The grass is always greener on the other side of the fence, right?

Hence, our farm name of Greener Pastures. We are dedicated to raising livestock that is pasture-based—fed minimal amounts of grain, plenty of fresh water and air. We are also striving to raise common sense kids–right alongside our plants and animals! We claim our main farm crop is our kids and anything else is a bonus!
Practices
We feed our livestock organic, GMO-free. We can't claim that we are certified organic, however you can bet your bippy that we wouldn't feed anything to an animal that we wouldn't eat ourselves!

We have a small herd of Boer goats. We are raising them to be brush-eating machines for the overgrown fields on The Douglas Place. After the Boer meat goats munch the weeds and brush in the field, then we send the pigs in to rototill the land, naturally. Animals deserve fresh air and room to roam!

In winter 2016, we erected a 38′ x 72′ greenhouse, spring fed from our pond. We have a wide selection of annuals, herbs, and vegetables to choose from. We don't use pesticides on our plants, opting for beneficial insects and other biocontrols like nematodes. From container pots, to herb gardens, and bedding plants, using locally-grown plants grown without pesticides is good for your garden, your family and your health.