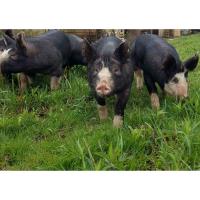 Bluebird Ridge Farms
Contact: Jeremy & Jenna Ashby
Address: 2035 bluebird road Milan, PA, 18831
Email Address: jennaolsyn@gmail.com
Phone: 570-423-2326
About Us
Meet the Ashbys! Jeremy, Jenna, Jace, Jaelyn and Jarrett. We are a husband and wife team dedicated to our family and farm. Bluebird Ridge Farms sits on a third generation farm in Milan, Pennsylvania. Our barns and fields have seen dairy, veal and beef operations in the past. Now it houses our Berkshire pork and Grass fed beef herds.

Bluebird Ridge strives to produce a quality, cleaner meat you can trust. All of our harvested animals are born and raised right here on our own farm to ensure quality from every stage of life
Practices
Our registered Berkshire hog herd is truly Jenna's pride and joy. We chose the Berkshire breed for it's renowned pork quality.
Berkshire is a heritage breed of pig discovered in Berkshire County in the United Kingdom. They were especially bred for the King of England for his own personal meat supply because of the excellent quality. Berkshire pork is prized for juiciness, flavor and tenderness. These qualities come from a more marbled, darker meat that is not bland or dry like other porks.

Here at Bluebird Ridge our quality control begins at day one. We run a farrow-to-finish operation meaning we deliver each and every piglet that enters our meat program personally. We maintain an excellent quality of care to every oinker on our premises from sows and boars, to feeders and piglets. You can catch our children along with ourselves handing out belly rubs and ear scratches or garden scraps for a special treat on most days.

The Bluebird Ridge Farm quality Berkshires take a lot of tender loving care. Our hogs enjoy green pastures to frolic on, mud to wallow in and dirt to root around in. We have closely worked with our local feed mill to create a unique feed program to support our hogs at every stage of growth and achieve the best marbling and quality in our pork.