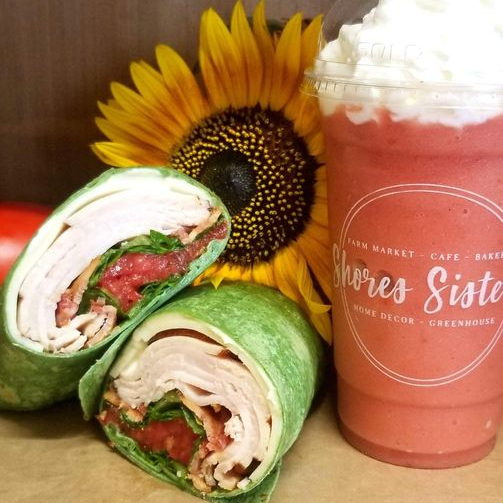 Shores Sisters
Contact: Renee & Mike
Address: 1003 Golden mile road Towanda, PA, 18848
Email Address: shoressisters@yahoo.com
Phone: 570-265-0333
About Us
We love all things fresh and local! We offer a cafe with farm to table ingredients, bakery with made from scratch recipes, green house, farm market, decor, local foods, Christmas shop, and so much more!
Practices
Shores Sisters Farm Market was started in the summer of 2004 by Raya and Renee Shores.

As daughters of a local dairy farmer and cattle dealer, Glenn Shores, they were offered the opportunity to sell sweet corn on his property in Wysox that was formerly owned by his parents, Norm and Glenda Shores.

Norm and Glenda had owned Shores Short Stop, an ice cream shop and deli, from 1980-1994.

Customers still come to the farm market today asking for Glenda's famous potato salad and Wonder Roast Chicken or talking about the tractor they purchased from Norm.

The two sisters started small compared to what the business is today. With their dad's farm truck and a yellow tent they were able to offer sweet corn, tomatoes, squash and sometimes a melon or two on a good day. It was a great summer job for college kids. During the summer of 2006, Renee not only raised enough money to pay for her college books, she also met Tom Champluvier's, the corn farmer, grandson. The cute "corn boy," Mike, helped her load produce at the farm in the mornings and they quickly hit it off. Renee continued her path to college and Mike entered the United States Marine Corp- neither of them seeing farm life the life for them at that time.

However, Renee did not enjoy college or being away from the country. She fell in love with serving the public while dealing directly with farmers. In 2008, she decided to take a semester off college and test the waters on Route 6 for a full farm market. A 14'x40' skid shed was purchased and she set up shop, all the while keeping Mike in the loop while he served in Iraq.

Business grew and grew, and Renee quickly decided that she loved the farm market business and the people of Bradford County! She sold flowers, produce, pumpkins, and even Christmas trees. Her older sister, Rachel, moved back to the area, started helping at the small stand, and continues to be a great asset to the business today. Renee continued growing the business while Mike served his time in the Marines. In 2010, Mike was honorably discharged from the service after two tours oversees, and the couple got married in February of 2011. Mike took over growing the sweet corn in Laceyville for his grandfather Tom, and Renee continued running the retail business in Wysox.

In 2012, the skid shed was no longer functional for the business and the couple decided to move to Towanda to expand the retail business. They built the current building in 2012 and now grow corn solely for their own retail customers. Tom is still growing corn wholesale for Champdale Farms. In 2013, Mike and Renee added the bakery and greenhouse. In 2014-2015, the couple decided the addition of their first child, Ada-Mae, was enough to keep them busy!

With the addition of their second daughter in 2016 and an extremely challenging growing year, Mike and Renee thought any more expansions were on hold. The Lord had other ideas and blessed the business with two new greenhouses in 2017-2018. Customers loved the new expansions and with it came the demand for events and classes which are becoming a large part of the business.

We, at Shores Sisters, are continually grateful to the community for its support of our business and hope to be able to grow and expand in the future to better meet the needs of our customers.