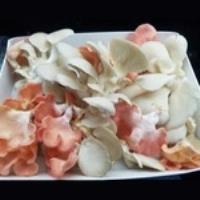 Mad Mountain Merchandise
Contact: Spencer Puzak & Callie Shumway
City: Monroeton, PA,
Email Address: spencerpuzak@gmail.com
Phone: 814-441-4991
About Us
Established in 2017, we are a local farm focused on providing Bradford and neighboring counties with delicious, fresh mushrooms. We grow a variety of oyster and shiitake mushrooms.
Practices
All of our mushrooms are grown from organic spawn and are free from chemicals and sprays. We grow year round indoors and seasonally outdoors. We focus on two methods of mushroom farming: plug spawn in hardwood logs outdoors and inoculated hardwood and straw substrates indoors. These methods have allowed us to grow with the seasons, yet still be able to provide local consumers with delicious, clean mushrooms even during the bitter Pennsylvania winters. Our spent mushroom straw is then tilled into our garden soil to enrich it and leave no waste behind. We are always encouraging others to grow gourmet mushrooms. We offer grow kits and occasionally host seminars for those to learn how to grow their own.