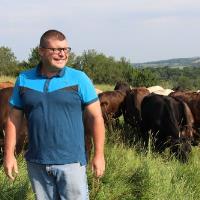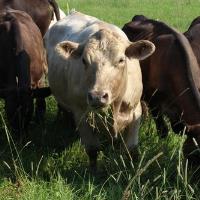 Edgewood Farms
Contact: Larry & Brit Bellows
Address: 107 N Main St Mansfield, PA, 16933
Email Address: bellowshealthsystems@gmail.com
Phone: 570-662-0927
About Us
Thank you for expressing interest in Edgewood Farms' products! We are excited to announce that we are working with Baystate Organic Certifiers of Massachusetts to obtain 2 organic certifications. Until then, please note that Edgewood Farms' current Holistic label supports community-controlled oversight rather than government regulation. Dr. Bellows is a 4th generation farmer with Edgewood Farms where he maintains complete transparency with the farming practices.
Practices
Almost 10 years ago, Dr. Bellows slowly started building and training a herd of hand-grazed artisanal cattle. This herd has been trained to be led to a fresh pasture, by a professional grazier on the 605-acre farm. This type of passionate attention has gained a universal tagline over the years as "Salad Bar Beef", as the animals enjoy a fresh, clean salad bar.
This careful hand-grazing of the land allows a polyculture of plants and grasses to develop. This fresh salad bar encourages the land and the cattle to thrive. Cattle drink from a tested geothermal watering system connected to the family's personal Armenia Mountain well.
In the winter, the cattle enjoy hay and naturally fermented grasses exclusively from fields located at Edgewood Farms. Air-tight tubes seal and protect winter feed from degradation and nutrient-loss. The fields at Edgewood Farms are fed with liquid organic fish from Neptune's Harvest. The forage equipment was purchased new from Valley-Ag to ensure that no GMO feeds or pesticides could contaminate Edgewood Farms cattle feed. Food-grade grease lubricants are used exclusively to service equipment that can contact cattle feed or the farm's soil.
Edgewood Farms selected the artisanal Murray Grey breed of cattle from Wales. Cattle thriving on grass creates a tender and well-marbled product. Rather than a thick layer of fat under the hide, Edgewood Farms Murray Grey cattle showcase evenly distributed fat throughout the meat. Edgewood Farms' calves are exclusively born on the farm and kept with the mother continuously through adulthood. Cattle are not processed until 3 years of age to develop the best texture, marbling and flavor.